Asbury Park Spring Bazaar Gift Guide - Mother's Day 2018
Mother's Day is just around the corner - and so is the Asbury Park Spring Bazaar! We have everything you need for the perfect Mother's Day gift (and some great stuff you can get for yourself as well!). Come check out the Asbury Park Spring Bazaar happening Saturday & Sunday, May 12th and 13th, in the Grand Arcade of Convention Hall, a beautiful historic building right on the beach in Asbury Park. Enjoy the breathtaking views of the Atlantic Ocean while shopping from some of the best local vendors around. We've put together a gift guide highlighting some of our vendors to help you find the perfect gift!
Celebrate Mother's Day with a fun filled weekend - featuring live music, Mother's Day photos, hairstyling with Boho Hair Salon (Sunday), massages, and some awesome workshops we put together. Faye + Renee will have a build your own flower bar, as well as pre-made bouquets, so you can pick up some flowers for mom. Don't forget to check out Anchor's Bend for some Mother's Day brunch and cocktails!
Rooey Knots
Looking for a unique, sustainable gift for mom? Rooey Knots make all their accessories out of men's neckties. They'll feature a variety of hand sewn headbands, clutches, and bracelets. | Sunday, May 13
The Motto Organics
Pamper mom this mothers day by picking up some beauty supplies from The Motto Organics. Their products are all made vegan and cruelty free. Check out the sweet smelling soaps, bath salts, body butter and more! | Sunday, May 13
Julia Passafiume Design
Looking for something for the mom-to-be? Julia Passafiume Design will be featuring organic and hand crafted children's clothing. | Sunday, May 13
Woman to Women1
If you're looking for something for the fashionista mom you have to check out the Woman to Women1 booth. They'll feature artisan-made pieces from designers located all over the world. Grab mom a cute outfit for brunch or a fun night out that she's sure to love! | Sunday, May 13
VICE & VIRTUE
If you want to find something to make mom sparkle you'll want to check out Vice and Virtue. They'll feature vintage pocket knives, crystal jewelry, layering necklaces and more. | Saturday, May 12
Sanctum Handmade
Does mom love to decorate? Sanctum Handmade will be featuring their macrame and metal home decor. Grab an airplant hanger for mom to spruce up her home for spring. | Saturday, May 12
Earthly
Earthly hand dyes their products using botanicals and will be featuring their collection of handmade separates, kimonos, and wrap tops. Mom will love these items and love even more that they're made with natural ingredients. | Sunday, May 13
Sarah Barrett
If mom's a plant lover you'll definitely want to check out Sarah Barrett's booth where you'll find beautiful flower globes, succulents crystal gardens, and marimba globes. Pick one up for mom (and for you!). | Saturday, May 12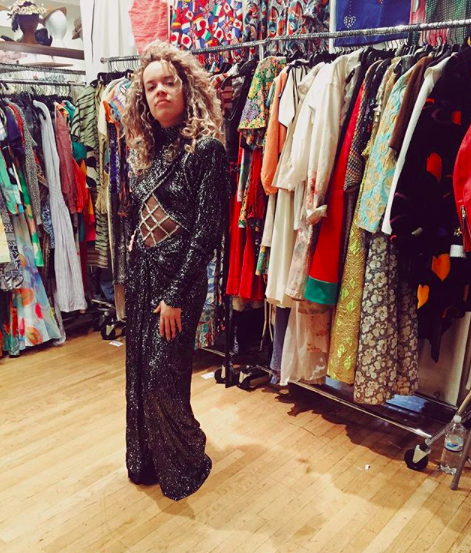 Muneca Mullins
Grab some vintage pieces for mom at Muneca Mullins' booth! She'll be featuring a number of vintage clothing items, shoes, and accessories. | Saturday, May 12